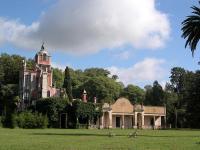 Estancia Santa Rita
Location
Lobos (The Pampas, Argentina)
Description
Around 1 hour 45 minutes south-west of Buenos Aires. An impressive Baroque style main house overlooking impressive grounds, with a sitting room, library and small dining room downstairs. The gardens are well kept, there is a swimming pool and lagoon, attracting many birds.
Activities
Riding, bird watching, bikes.
Accommodation
All the rooms are different, they are either in the main building or the separate tower and have private facilities. The rooms in the main building have a fireplace and are more tradtionally furnished than those in the tower, but the tower rooms have excellent views.