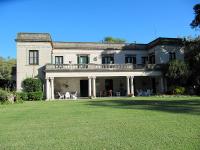 Estancia Las Colas
Location
Gualeguay (The Pampas, Argentina)
Description
2 hours 45 minutes north of Buenos Aires, half an hour from the border with Uruguay. This turn of the century Renaissance house is ideally situated close to the small town of Gualeguay and provides a relaxing atmosphere away from the capital. The house itself is well decorated with a mix of classic and modern art and has a very comfortable living room for guests. There is also a small museum with old farming equipment, classic cars and even an antique dentist chair. The atmosphere is very homely and the food is traditional to the area.
Activities
Riding, horse and carriage rides, nature walks and biking as well as gaining an insight into farming life in Argentina.
Accommodation
There are 7 double rooms spread across two floors with large windows, some have access to the main balcony. As it is an old building, you need to inform staff when you would like to take a shower so that they can boost the water pressure!