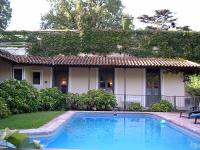 El Ombú de Areco
Location
San Antonio de Areco (The Pampas, Argentina)
Description
Around 1 hour 45 minutes north from Buenos Aires. The property has been in the hands of the Boelcki family since the 1930's. The dining room is informal with fireplace and private tables. The sitting room has a cosy fireplace and is surrounded by a beautiful terrace with mosaic tiled floor and huge pillars. All of the buildings are covered in wisteria and ivy, and the grounds are well maintained.
Activities
Riding. It is also easy to visit the town of San Antonio from here. There are 2 pools.
Accommodation
9 rooms all with private bathrooms and ceiling fan. Wooden floors in rooms, wood burner and traditional wood furniture.
Our comments
Can have large groups visiting for lunch.