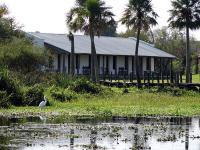 Posada de la Laguna
Location
Southern Iberá (The Iberá Marshlands, Argentina)
Description
A family lodge set in 4 acres on the edge of a lagoon. The main house has a dining room, living room and bar. There is a swimming pool. All meals are included.
Activities
There are a wide variety of excursions (e.g. canoeing on the lake and wildlife viewing trips by motor boat and on foot). Riding and fishing can be organised locally.
Accommodation
7 comfortable rooms (all en-suite).
Client comments and reviews
Loved Ibera - Elsa and team excellent and boat rides (especially at night) wonderful. Only problem is remoteness and bad roads again to next destination. - JW (February 2010)
The quality of wildlife activities and guiding at Posada de La Laguna was fantastic. Ibera is really amazing - teaming with wildlife and birds and presenting so many photo opportunities for even the most ignorant wildlife viewer. - SW (February 2009)