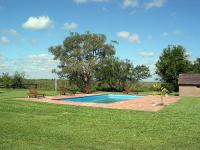 Posada Aguapé
Location
Southern Iberá (The Iberá Marshlands, Argentina)
Description
A small, friendly lodge on the shore of the Iberá Lagoon with lovely gardens, a private pier and a swimming pool. The open-sided restaurant offers lovely views and good bird watching opportunties and there is a cozy sitting room with some lovely books on Argentina and the area. All meals are included.
Activities
Canoeing on the lake and wildlife viewing trips by motor boat and on foot. Over 350 species of birds, alligators, monkeys, capybara, pampas deer, marsh deer, river otters and wonderful butterflies all inhabit the area. Horse riding and fishing can be organised locally.
Accommodation
12 comfortable rooms with private facilities. They have a traditional/rustic style, a small terrace with hammock and overlook the gardens and lagoon.
Client comments and reviews
We saw amazing wildlife in the wetlands. The tours - by boat, driving and on foot, were well done and the lodge was very nice. I wouldn't say the food was excellent, but it was good apart from a rather spare dinner on our first night! - SH (November 2013)
Very few birdwatchers we have spoken to know much about the Ibera Marshes or even where they are but they are excellent for birds and wildlife. The Pousada Aguape is well located and provides excellent guides and trips to see the birds and animals. Although it requires a bit of effort to get there taking the overnight bus, it is certainly worth it. - SL (November 2008)
Aguape was a magic place, with food to die for! - RB (October 2007)
Posada Aguapé was very good - peaceful and Nando our guide was very knowledgable about where to find wildlife and patient with our lack of Spanish. Food was particularly good too. The overnight bus from Buenos Aires getting there was fantastic - comfortable and on time. - CC (March 2007)