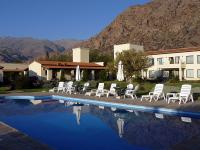 Viñas de Cafayate
Location
Just outside Cafayate (South of Salta: Cachi and Cafayate, Argentina)
Description
On the outskirts of town, Viñas de Cafayate is a modest, mock hacienda set at the foot of a hill surrounded by vineyards. The rooms are set around two courtyards, the gardens are well kept and there is a lovely outdoor pool. There is a restaurant, wine tasting is offered and a complimentary glass of wine is available to all guests in the sitting room each evening.
Activities
Wine-tasting, exploring the surrounding canyons.
Accommodation
There are 22 rooms set around two courtyards. The 12 original rooms (standard) are around one courtyard, they share a terrace and have a view out over vineyards. The 10 newer rooms are around the other courtyard and are on two floors with a private balcony or terrace. The rooms are all similar in size and style with pleasant décor and are well equipped.
Our comments
A good option surrounded by pretty scenery and very quiet. Being 3km from the town it is a very good option if you have a hire car.
Client comments and reviews
Viñas de Cafayate was breathtaking with its views. The quality of the restaurant was fantastic and by far the best meal of our entire trip! - BH (January 2019)
Viñas de Cafayate has a good location, lovely views, nice pool and helpful staff. Our room was very quiet and comfortable, with a good bathroom and shower. Both breakfast and dinner were very good and we went for a nice local walk. There was Wi-Fi in the lounge (sometimes!). - HH (January 2018)