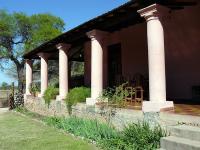 Finca Santa Anita
Location
Coronel Moldes (South of Salta: Cachi and Cafayate, Argentina)
Description
A family run property 60km south of Salta on the outskirts of Coronel Moldes. Carlos, Valentina and their six children are dedicated to rural tourism and they offer their home as a place for guests to experience genuine Argentine culture. The farm is 60 hectares and primarily agricultural, there is a tocacco museum, cheese factory, outdoor pool, lovely terrace, dining room, stables and a vegetable garden. The family also own a 200 hectare ranch in the mountains where they have cattle and from where they operate their main rides.
Activities
Riding is the main activity, the horses are a mixture of native Criollos and Peruvian Paso and are ridden Western style. From the farm the riding is fairly limited, taking you to the huge Cabra Corral dam (12,000 hectares) and along tracks past local homes. From the ranch in the mountains 5 and 7 day rides are offered into the Calchaque valley. The riding is along steep mountain paths that wind up on to the grassy undulating hills with spectacular, varied scenery. The accommodation is simple and you stay at ranches, experiencing what it is like to live in the mountains and work with the gauchos.

For those that do not ride there is the opportunity to milk goats, for the finca's award-winning goat's cheese, visit the tobacco museum and the archaeological museum, participate in cooking classes with Valentina and learn to make empanadas, breads, jams or something more complex should you desire! Fishing, rafting, watersports, vineyard visits and excursions to Quebrada de los Conches and Cachi can also be organised.
Accommodation
The four rooms are all slightly different, they open out onto a terrace overlooking the garden and are traditionally furnished with tiled floors and a small private bathroom. There are no TV's.
Our comments
Very friendly, family run property with dogs, horses and a lovely relaxed feel. Carlos cooks an excellent asado!