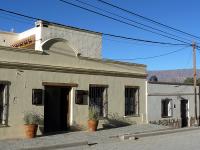 El Cortijo
Location
Cachi (South of Salta: Cachi and Cafayate, Argentina)
Description
A small colonial inn with a welcoming, cosy sitting area on entry. Staff are very friendly and the restaurant serves good food.
Activities
Guided walks and stunning drives, particularly the road to Salta.
Accommodation
15 small rooms all with character and private bathrooms. Most of the rooms are centred on two floors around the courtyard.