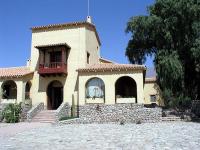 Estancia Colome
Location
Above Molinos (South of Salta: Cachi and Cafayate, Argentina)
Description
A 39,000ha estate owned by the Hess family, who have built this spa/resort from scratch with no expense spared. There is a large pool and restaurant. There is a separate area for wine tastings and more informal lunches and nearby is a small art museum.
Activities
The bodega produces top class wines and own the highest vineyard near Cachi. Other activities include tennis court, putting, jogging, masseuse, 4x4 trips, self-guided walks, riding at the estate farm.
Accommodation
9 rooms - either Junior suites (but aren't) or Master suites.
Client comments and reviews
The bodega is stupendously situated, it has great food and is very well organised. We had a nice tour and the owner Mr Hess is very hospitable. - PV (February 2007)