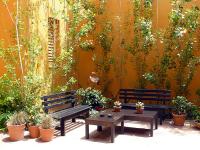 Legado Mitico Salta
Location
Salta (Salta, Argentina)
Description
A lovely boutique hotel in the centre of Salta and full of charm. There is a library, breakfast lounge and spacious patio area.
Accommodation
There are 11 rooms, each named after historical characters and significant areas important to Argentina's culture. All rooms include a TV/DVD, minibar, safe and private bathroom. Deluxe rooms are very spacious.
Our comments
Very friendly and attentive staff. Great place to stay if you are looking for somewhere modern but still with character.
Client comments and reviews
Legado Mitico is very good indeed and we had a huge, wonderfully comfortable room. It's a fabulous building with a great location, and the staff were very helpful. - GB (December 2018)
Fabulous rooms and very helpful staff and it was just a pity we couldn't have stayed here longer. - CT (April 2013)
Lovely boutique hotel, well located. - AD (June 2012)
Legado Mitico was a fantastic hotel, and all the staff super friendly and super helpful. Room really excellent. - PE (October 2011)
We enjoyed our stay in Salta very much and the hotel room was superb, really beautiful.   The hotel is in a lovely building including the public rooms and courtyard area.  Our only slight criticism was that, although you could ask for a drink at certain times, it ideally needed a bar, to add atmosphere, although we realise it is a boutique hotel. The staff were extremely efficient and would do anything we asked. - AF (November 2010)