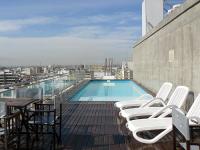 Design Suites
Location
Salta (Salta, Argentina)
Description
A stylish, design hotel in the city centre a short walk from the main square, with a section of the hotel being a restored colonial house. There is a restaurant, bar, roof top deck with an outdoor pool, a spa and a gym. The reception is also an art gallery with pictures by local artists.
Accommodation
The majority of the rooms are in the newer building, they are light and spacious with pleasant décor and are well equipped.
Our comments
Good value, friendly staff, good facilities and very central.