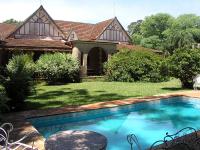 Estancia Santa Inés
Location
20km from Posadas (Misiones, Argentina)
Description
Built in 1906 in English Tudor style, with a huge dining room and pretty gardens.
Activities
Riding or walking through the mate plantations, birdwatching, fishing, excursions to the Paraná River. The Argentine and Paraguayan Jesuit ruins are easily accessible and you are not far from the marshlands of Iberá.
Accommodation
Rooms are large, full of character and have private bathrooms.
Client comments and reviews
The Estancia was beautiful and we were made very welcome indeed. We had a very peaceful time there but also managed a ride and a couple of walks (we saw howler monkeys on one of them). The food was very good and all home cooked and authentic. - SH (November 2013)
The Estancia Santa Ines is magical! The owners were so kind and generous with their time, the food was wonderful (they produced such fantastic gluten-free cooking for our daughter and kept reappearing with more innovative alternatives to flour) and we could happily have stayed there longer. They even found wellington boots for us all, so we didn't get our walking boots muddy! I noticed from reviews on Trip Advisor that others have had the same level of praise for them too. - LH (August 2012)