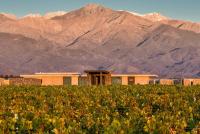 The Vines Resort
Location
85km south of Mendoza (Mendoza, Argentina)
Description
A luxury hotel set on a 1500 acre winery in the Uco valley. Undoubtedly, one of the main attractions to this resort is the restaurant by Francis Mallmann, "Siete Fuegos" where regional dishes are created using a collection of open-flamed cooking techniques. There is a fitness centre, spa and infinity pool.
Activities
There are walking trails or you could make use of a mountain bike or horse to explore the area. Help out with grape harvest, or plant vines, blend your own wine or simply relax.
Accommodation
There are 22 villas; one bedroom units, one bedroom deluxe villas and two bedroom deluxe villas. They are all spacious and offer private outdoor deck, a few villas have a rooftop terrace perfect for star gazing. All villas have a kitchenette offering some independence.