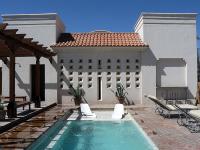 Cavas Wine Lodge
Location
30km south of Mendoza (Mendoza, Argentina)
Description
A comfortable lodge surrounded by vineyards, set in the idyllic countryside of a private 60 acre valley near Agrelo. The sitting area is very cosy and the restaurant has wonderful views of the Andes and a large wine cellar. The lodge also has a full spa and there are bikes to explore the surrounding countryside.
Activities
Private winery tours or wine tastings to local vineyards, golf, hiking, rafting or riding. The spa has unique treatments revolving around wine!
Accommodation
The 14 rooms are spacious and all have TV, mini-bars and a cosy fireplace. Rooms are separate from the main building and have an unusual design! Each room has a private plunge pool, sun deck and roof terrace with sitting area - perfect for sunsets and star-gazing.
Our comments
Children under 12 years old are not allowed to stay.
When to go
Closed annually from 1st-30th June
Client comments and reviews
Cavas Wine Lodge was superb with fantastic food and accommodation. - DF (November 2017)
All excellent. Lovely rooms. Plunge pool rather cold. Food superb and staff great. They were very good at organising for us to visit additional wineries not on the "list" at short notice. The wine tours they had arranged were all very interesting as well. Loved riding in the vineyards. As a surprise we had wine/nibbles and fire alight on our roof top where, by pure chance, we saw one of the very best sunsets ever! They put on a Tango Show one night which we were rather sceptical about but it was super and the couple offered to teach people the steps all sitting on rugs in the "amphitheatre" with wine and canapés. All their drivers were extremely nice. Would definitely recommend. - GW (October 2013)
Cavas was a great hotel and a very good recommendation. The wine tastings and activities were also very good. - ME (March 2012)
The highlight of the trip was definitely the Cavas Wine Lodge. It was absolutely fantastic, and probably as good as anywhere we have stayed before. The service was excellent and very friendly. They could not do enough for us. We went horseback riding in the hills one day, which was terrific, and also visited some wineries on our last day. The only disadvantage is that it is so remote, but once there you really don't want to leave the estate! - SH (November 2011)
Fabulous! Stylish, comfortable, excellent but understated service from young staff who couldn't do enough for us. There is so much to do and it doesn't cost anything extra. If we had time we would have done more. However we did manage zip wiring and if I can brave it, anyone can! - AM (March 2008)