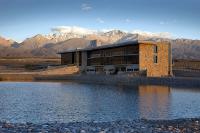 Casa de Uco
Location
85km south of Mendoza (Mendoza, Argentina)
Description
A stylish hotel and wine development in the heart of the Uco Valley. The rooms and suites are modern with tasteful décor and a panoramic view of the Andes, vineyards or a lagoon. The restaurant specialises in gourmet regional cuisine, typical Argentine BBQ's (asado) are prepared in the quincho and wines can be tasted in both the wine bar and cellar. Facilities include a pool, spa and tennis courts.
Activities
There are walking trails around the 320 hectare estate, bikes available for cycling through the vineyards and riding can also be organised.
Accommodation
There are 16 spacious and comfortable rooms in the main building, all with stunning views, and a few bungalows (with private gardens and terraces) in the vineyard.