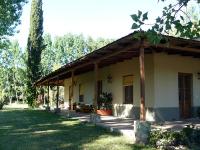 Algodon Viñas del Golf
Location
200km south of Mendoza (Mendoza, Argentina)
Description
A small lodge, 10km outside San Rafael, on a 900 acre property with vineyards, olive plantations and a golf course. There is a boutique winery, two swimming pools, a restaurant and excellent views.
Activities
Golf, visits to local wineries, riding, mountain bikes, rafting, excursions to Valle Grande.
Accommodation
9 comfortable, spacious rooms with private facilities, a terrace, fireplace, wooden furniture and pleasant decor. They are all slightly different with their own individual charm, some overlooking the vineyards and others overlooking the pool and gardens.
Client comments and reviews
Vinas del Golf is a great place in a beautiful position with fabulous staff - friendly, warm and efficient. We had a lovely large room overlooking the swimming pool and the food was very good. Every evening we ate outside under the trees on wonderful old wooden tables and loved the relaxed atmosphere. We loved the area and the scenery driving through the Canyon de Atuel. - JD (January 2012)
We particularly recommend Algodón Vinas del Golf, everyone was so friendly, the food superb and just generally relaxing and delightful. We drove through the Canyon Atuel, most impressive. - IW (January 2009)