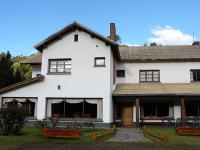 Quime Quipan
Location
Los Alerces National Park (Esquel, Argentina)
Description
Small, friendly hosteria with a small beach with views over Lago Futalaufquen. There is a welcoming lounge with roaring fire, bar and separate breakfast room. Supper can be taken at a separate cabin in the evenings serving hearty (and very good) Patagonian food.
Activities
Visiting Esquel, exploring Los Alerces National Park and the suspension bridge, local fishing can be arranged.
Accommodation
Rooms are simple but warm and each have a small bathroom with only a shower.
Our comments
Hire car is essential in this area. No English spoken.