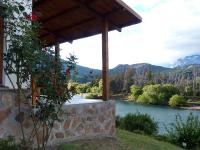 El Encuentro Lodge
Location
Rio Grande, near Trevelin (Esquel, Argentina)
Description
A simple fishing lodge 10km from the Chilean border and on the banks of the beautiful Rio Grande (which becomes the Futaleufú when it enters Chile). The charming Beale family have lived here for several generations and are your friendly hosts.
Activities
Mainly geared towards fishermen. The family can put together a programme (mainly rainbow and brown trout) including other lodges in the area, for real variety.
Accommodation
There are three rooms in the main house, with their bathrooms across a corridor. A separate building, set back from the river and with no views, has two more slightly larger bedrooms, and a small sitting area.
When to go
The season runs from December to March.