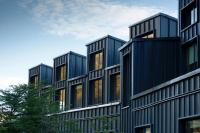 Explora El Chaltén
Location
Los Huemules (Chalten, Argentina)
Description
A striking, contemporary lodge which sits in a valley within Los Huemules Conservation Reserve 17km from El Chaltén. There are beautiful views to the Rio Electrico valley and the Marconi glacier and many of the activities leave from the front door of the property. The lodge offers an inclusive package with full board and a choice of excursions shared with other guests.
Activities
Guests can choose any small group guided excursion from the wide range on offer. These include hikes, overland excursions by vehicle and self-guided excursions either on foot or by bike. There are four different exploration zones, each with its own unique geographic, cultural and biosphere characteristics - the Los Huemules reserve itself, the Los Glaciares National Park, Lago de Desierto and the Southern ice fields.
Accommodation
20 spacious rooms and suites, each with large picture windows. The rooms are simply but impeccably furnished, so as to make the most of the outside views.
Our comments
Explora Lodges are a wonderful option for those who like to fill their time with a number of excursions and prefer the ease of booking an inclusive package. A stay at Explora El Chaltén also works well in combination with stay at Explora's sister properties in Chile's Torres del Paine and in Patagonia National Park.