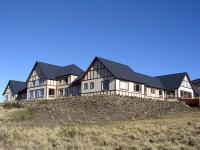 Eolo
Location
30km west of Calafate (Calafate, Argentina)
Description
A first class lodge on a 3,000 hectare estancia with wonderful views towards Lago Argentino and across the Anita valley, about 30km west of El Calafate. Floor-to-ceiling windows throughout the property allow lots of natural light, there are comfortable communal areas, a restaurant and bar, a wine cellar, an outdoor hot tub and a yoga deck.
Activities
There are a range of possible activities available to suit all levels of interest and fitness. They include riding on Mount Frias, trekking or cycling across mountains and through valleys, bird watching, stargazing and guided visits to the Perito Moreno glacier. Alternatively relax and appreciate the sweeping views from the cosy lounge, visit the wine cellar, enjoy a massage, do yoga or sit in the outside hot tub.
Accommodation
There are 17 rooms, 12 Superior, 3 Premium and 2 Corner suites - all very comfortable, stylish and with wonderful views. The corner suites are extra special, very spacious and large bathrooms.
Client comments and reviews
Such a marvellous place to be and our premium room was brilliant. Everything about this place was quality - the food, wine, location, ambience, the building, the views, the room and the waiting staff. An extraordinary place and again would highly recommend. - RM (January 2017)
Eolo has been magnificent, we have had such a good time. I'm going to have to be dragged out tomorrow with my finger nails raking the ground! - LM (January 2017)
Eolo was just great - staff, food and general atmosphere. The glacier was very impressive too. - ME (March 2012)
Eolo was stunning - probably best hotel we have ever stayed in - and we have been to a lot of places! It was worth every penny and the staff could not do enough to help you. Nothing was a problem, one day I did not like food on the menu and they asked if they could just cook me a steak - they did and it was the best steak of the whole trip!! Glacier awesome too. - DL (November 2011)
Estancia Eolo was the highlight of our trip. After all the stresses of travelling, the peaceful atmosphere and Zen-like quality of the place instantly soothed us. The staff even walk around in moccasins so that they do not make any noise! The surrounding landscape was amazing and the food and service were wonderful. Thank you for sending us there. - JL (November 2010)
Eolo would win for level of care and attention to detail. The menu of teas to select from and their subsequent arrival in a large teapot with cookies deserves special mention - sadly we weren't there long enough for me to try all the options!
- AC (March 2008)
This was a fabulous hotel with great food. The Perito Moreno was great but very crowded (as expected!) and the second day we spent hiking the grounds, horse riding and watching condors which was very nice. - TM (March 2008)
We loved the accommodation provided by the Eolo Estancia which was in a fabulous setting and with wonderful staff and very high standards of everything. - JJ (February 2008)