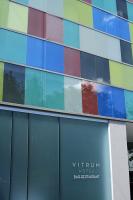 Vitrum Hotel
Location
Palermo Hollywood (Buenos Aires, Argentina)
Description
A funky, design hotel in the vibrant neighbourhood of Palermo Hollywood. Avant garde and minamalist, the Vitrum Hotel prides itself on its modernistic urban design and conception. A colourful, rubik's cube of a facade leads you into a large opern plan lobby, restaurant and bar and through to a small art galley. Downstairs there is a small garden, and upstairs there is a roof terrace, small solarium and a plunge pool.
Accommodation
There are 16 rooms divided into duplexes, suites and garden terrace rooms. As the hotel was designed from scratch, the rooms are spacious with all mod cons and stylishly put together.
Our comments
Love it or hate it, it certainly stands out! The surrounding area is on the scruffy side and it would appeal to a younger, artistic audience.