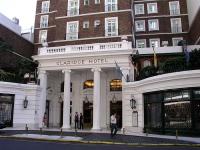 Claridge Hotel
Location
Downtown (Buenos Aires, Argentina)
Description
A small, comfortable hotel with a grand, open lobby and character, near the main shopping area. There is a restaurant/bar area on the ground floor and a café near the outside pool.
Accommodation
Rooms are very comfortable and clean with TV and en-suite bathroom.
Our comments
A reasonably priced mid-range hotel.
Client comments and reviews
Claridge Hotel were most helpful and we enjoyed using the pool. - CS (February 2010)
Hotel Claridge was very good. Its central position is excellent for exploring the city. - PW-A (February 2008)
We were delighted with the hotel, it was so lovely to be able to sit outside by the pool and enjoy the wonderful weather. - LL (March 2007)