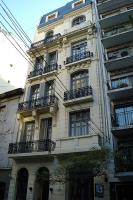 Art Hotel
Location
Near Recoleta (Buenos Aires, Argentina)
Description
A small, boutique hotel with friendly and helpful staff. The local artwork on display in the foyer is changed every month and is open for public viewing during the day. There is a pretty roof-top terrace with jacuzzi and sun-loungers, and a cafe area downstairs for breakfast and snacks.
Activities
Within walking distance of the famous Recoleta cemetry, and there are many good shops, bars and restaurants in the busy Avenida Santa Fe close by.
Accommodation
36 rooms and 3 room types - King, Queen and Small and Cosy. All have private bathroom, air conditioning, cable TV, phone and internet connection. Some King and Small and Cosy rooms look out over the street. All rooms are individually decorated and contain work of Argentine artists.
Our comments
A charming, good value and comfortable place to stay in a lively area.
Client comments and reviews
We loved the Art hotel, really friendly staff and quirky decor. Great position too. - RM (January 2011)
The Art hotel was our favourite place in Buenos Aires, we really liked the position in the buzzy area around Recoleta. The hotel was stylish but friendly and a good base for us. - JL (November 2010)
The staff at the Art Hotel were VERY good. Friendly, helpful, amusing and competent, they arranged anything we wanted.  The hotel is a little quirky, not quite the Sheraton, but to all but the squares, it comes highly recommended. - HM (January 2010)
We loved the Art Hotel. The staff were superb and were great at advising where to eat out in the evenings. Our room was large (a King) although we heard from others that the other room types were rather small. - BG (January 2008)