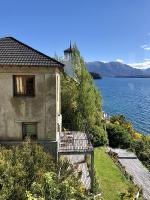 Luma Casa de Montaña
Location
Villa la Angostura (Bariloche and Villa la Angostura, Argentina)
Description
A charming small, family-owned villa on the northern shores of Lake Nahuel Huapi just east of Villa la Angostura. There is a restaurant, pool, spa and sauna and all rooms have views of the lake.
Activities
The whole area, much of it protected under the National Park system, is one of outstanding natural beauty with cascading rivers emerging into serene lakes and dense forest. Fishing, riding, white-water rafting, water skiing and wind surfing can be organised locally.
Accommodation
There are 8 beautifully appointed spacious rooms (known as suites) - a junior suite, 4 premium suites and 3 premium deck suites (with a private terrace).
Our comments
Very well situated for exploring the region particularly with a hire car.
When to go
November to April unless going to ski.
Client comments and reviews
We especially enjoyed the Luma Casa de Montana, a lovely hotel with such a friendly helpful owner, and views to die for. - FR (January 2018)
Luma Casa de Montana was fantastic in all respects - the owner brilliant, the setting blissful and lovely rooms throughout. The hotel does not do dinner but Chop Chop was a very good nearby restaurant. - IH (January 2018)
Casa Luma was charming, really lovely owner and a perfect place to stay at the end of our trip. - MN (January 2017)