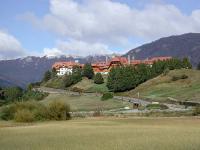 Llao Llao Hotel and Resort
Location
25km from Bariloche (Bariloche and Villa la Angostura, Argentina)
Description
Llao Llao is a first class resort hotel with a stunning setting overlooking Lake Nahuel Huapi, about a 20 minute drive from the centre of Bariloche. The restaurants serve a range of typical Argentine dishes and international cuisine, the bar is warm and welcoming and facilities include tennis courts, an indoor swimming pool, a games room and an 18 hole golf course.
Activities
Golf, tennis, mountain biking (there are bikes to hire) and exploring the region with a hire car.
Accommodation
There are 205 rooms and suites set around the property in a several different buildings. They are all stylish with contemporary décor and most have a view of the lake.
Client comments and reviews
The Llao Llao is probably one of the best hotels we have ever stayed in anywhere in the world, top 5 for definite. We were lucky to get an upgrade to the new rooms in the Moreno wing. You could not fault the hotel except for minor things like the breakfast replenishment which was inadequate on the first morning because it was very busy. We just went later on subsequent days. The spa/gym/pool were really excellent. Unfortunately we didn?t get on the golf course because it was too wet. - DO (November 2009)
Riding with the Gauchos in Patagonia was brilliant! - DP (February 2009)
We had a magnificent stay at the Llao Llao with weather to match. - SM (January 2007)
Llao Llao great and we did not leave the hotel complex. Excellent food and we could have done with another day. - MH (January 2006)