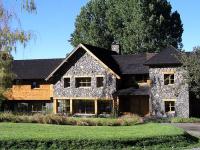 Hostería La Escondida
Location
Villa la Angostura (Bariloche and Villa la Angostura, Argentina)
Description
On the tranquil shores of Lake Nahuel Haupi near Villa Angostura. Communal areas are light and airy, there is a heated swimming pool outside and a small spa inside. The staff are friendly and helpful.
Activities
Mountain biking, riding, treks, rafting and boat trips can all be booked at reception.
Accommodation
Rooms are comfortable, modern and spacious.
Client comments and reviews
La Escondida in Villa la Angostura was outstanding - superb rooms and a fantastic location on the lake. - DH (January 2018)
La Escondida was heaven! We really enjoyed our stay. We were like a couple of couch potatoes. Not quite, as we did at least kayak quite a way on the lake. Each evening we enjoyed the log fire down near the lake and also enjoyed the very good food and wine in the restaurant in the Hosteria grounds. - TA (February 2011)
Fantastic accommodation, excellent restaurant, very friendly and hospitable staff. - CS (November 2007)