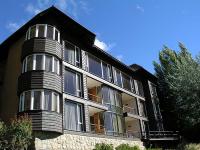 Design Suites
Location
2km from Bariloche (Bariloche and Villa la Angostura, Argentina)
Description
Very funky! The restaurant, bar, sitting area and reception are all in a large open plan building with various artworks scattered around. The views of the lake are lovely and there is a spa on a lower level.
Activities
Excursions around the lake can be booked with reception, and there are free daily transfers into the town centre.

Accommodation
Rooms are in five separate blocks ascending up the slope. All very comfortable, with lots of light. The junior suites have jacuzzis in the room with wonderful views.

Our comments
Although the accommodation blocks have lifts it may be difficult for those with walking difficulties.

Client comments and reviews
You advised me they were a bit odd and can understand why you said this - Design Suites were unusual - with road between hotel and lake - but it was still very good. - RM (March 2008)
Design Suites was lovely, we had a lovely lake view - even the jacuzzi had a view. The food was great (nouvelle cuisine style) and staff very friendly and helpful. - BG (January 2008)