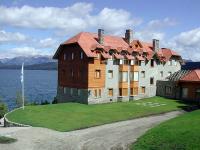 Hotel Correntoso
Location
Villa la Angostura (Bariloche and Villa la Angostura, Argentina)
Description
Positioned on the shores of Lago Nahuel Huapi and near the Río Correntoso. Communal areas are spacious and relaxing, the breakfast area has lovely views over the lake. There is a good restaurant and bar and an outside pool with full spa facilities.
Activities
Fishing, riding, walking, boat navigation on the lakes, skiing, spa
Accommodation
Rooms are well designed in neutral colours and are luxurious. There are various room categories, and either have a mountain or lake view. Suites are larger.