Uruguay is a country which is often overlooked, but there is more to the country than most people initially believe or expect. I have visited Uruguay before, in 2011, when I saw Carmelo and Colonia. On my most recent visit I had the opportunity to return to both these areas but also spend some time in Montevideo, the coastal areas of Punta del Este and José Ignacio, and I also found an exciting new hotel perfect for wine tasting!
Estancia VIK
My visit started in Punta del Este and quite honestly, it was not my cup of tea. We were out of season so it was eerily quiet and the hotels are large, most with adjoining casinos which burst at the seams in high season. I reached the conclusion that the quieter town of José Ignacio, around 30 minutes away from Punta, is far more appealing with charming small hotels and posadas. Being out of season it was also very quiet but it definitely had more of a small town, friendly vibe to it. Nearby is the stunning Estancia VIK which offers a rural experience rather than beach. Yet it is only 7km from José Ignacio and so you can easily get some coastal air if desired (the sister property Playa VIK is in José Ignacio). Every little detail is considered at Estancia VIK and as the owners are huge fans of all things art, there are lots of paintings and sculptures scattered all over the property.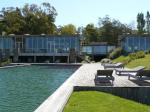 Agua Verde
The highlight of my trip came quite early on when we were taken to lunch at Agua Verde Hotel, around 15 minutes from Punta del Este. To be honest I wasn't expecting much but as we drove from the gate up the hill towards the hotel I began to sense this was a special place. It is a modern building attached to the old house so there is a wonderful blend of new and old. The living room is bright and light with stunning views across the valley. After a tour of the hotel - rooms are simple but taseful - we were treated to a typical asado outside in the sunshine. It was the most basic yet tastiest lunch we experienced through the whole week! As wine is produced in the gounds we were also given the opportunity to try it, made all the more special as our host is a sommellier. The afternoon was topped off with a fun but gentle ride through the surrounding fields and vineyard - perfect! There are a couple of reasons why you should stay here; the food and wine is delicious, and it is a lovely spot to unwind for a few days.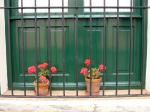 Colonia
Next we ventured west to Colonia, which is as tranquil as I remember. It is like stepping back in time. There are a few hotels here but by far my favourite was Charco with its clean, modern rooms blended with rustic charm and décor. It is the best hotel to stay in and is also great value which only adds to why you should stay there!
From Colonia we travelled an hour to Carmelo to stay at the Carmelo Resort and Spa by Hyatt. This is a great place to relax, unwind, pamper yourself in the spa and also enjoy some wine. The Carmelo area is home to a few vineyards so it would of course be rude not to sample the local produce! We visited Finca Narbona, another lovely property in the area, and I have no hesitation in recommending either - it really depends upon personal tatse. Finca Narbona is small, full of history and has a winery (I have to add we enjoyed an excellent wine and cheese tasting) whereas Carmelo Resort and Spa is larger and has more of a hotel feel to it.
Note (January 2017): Finca Narbona is now known as Narbona Wine Lodge.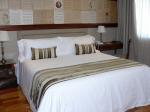 Alma Historica
Heading west again we finished our trip in Montevideo, which is becoming more popular with boutique hotels popping up each year. We stayed at Alma Histórica Boutique Hotel which is in the old part of town and each room is themed and named after a different Uruguayan historical figure. Our final evening was spent visiting the Sofitel - an impressive building away from the centre of Montevideo. The rooms themselves are what you expect from Sofitel but it is the building itself and the intricate details of the ceilings and communal areas which make it memorable. The building lay derelict for years but the Sofitel group have brought it back to life with pain staking work. It was the perfect place to enjoy a final supper as a group, sampling local wine and reminiscing over the past week.
All in all it was a fantastic trip and I loved exploring the country in more detail. There are some wonderful hotels in Uruguay, beautiful scenery, not to mention the charming people and excellent food and wine. So what's not to like?!