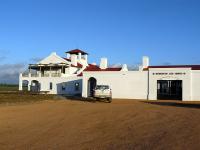 Estancia Vik
Location
near José Ignacio (Josť Ignacio and the East, Uruguay)
Description
A unique estancia surrounded by countryside and roaming cattle. The living area is full of all things Uruguayan with an interesting painted ceiling, two large stone fireplaces and huge hanging stones. There is an outside pool with lovely views to the countryside.
Activities
Activities include riding, mountain bikes, tennis, hiking, birdwatching and canoeing along the river. Guests can take advantage of visiting the sister property Bahia Vik and La Susana beach club.
Accommodation
There are 12 spacious rooms with huge bathrooms, all very differently designed and decorated by mainly Uruguayan artists. There are 6 rooms on each side of the estancia, all with far-reaching views.
Our comments
Very friendly staff.