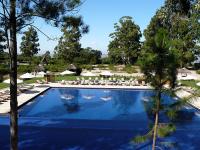 Carmelo Resort and Spa
Location
near Carmelo (Colonia and surrounds, Uruguay)
Description
A chalet-style resort hotel close to Carmelo and around one hour from Colonia. The hotel is surrounded by pine and eucalyptus trees, and overlooks the River Plate. There is a large outdoor swimming pool surrounded by a terrace, an indoor swimming pool and spa, tennis courts and two restaurants.
Activities
Championship golf course, tennis courts, gym, riding, cycling, fishing, kayaking in the nearby river. A small amount of vines have been planted adjacent to the swimming pool, and guests are invited to help harvest them in February.
Accommodation
20 Bungalows, 20 Bi-level suites and 4 Premium suites, some of which have views towards the River Plate. The Bi-level suites are on 2 storeys with a huge upstairs bathroom.
Our comments
A very comfortable resort option in a peaceful part of Uruguay (formerly managed by Four Seasons Resorts).
Client comments and reviews
The Four Seasons was a really nice place to stay. The bungalow room was stunning, very large with great facilities and first class room service. Customer recognition was very noticeable. The facilities lacked for nothing with an excellent outdoor pool and a very good indoor pool/ spa and gym. The tennis courts and the equipment/balls provided were very good. Once again we didn?t get on the golf course because it was waterlogged! † I would suggest that you steer clients away from a River Plate view, it would not be value at all. We would recommend the resort very highly. We thought that it was good value. - DO (November 2009)
The Four Seasons hotel is the perfect place to start or finish a holiday to South America. - FW (February 2008)