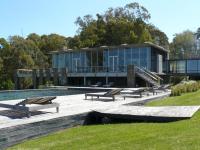 Agua Verde Hotel
Location
La Barra (Punta del Este, Uruguay)
Description
Dating back to 1780, the hotel was built using local stone and adobe by pirates and was a secret place used to hold clandestine meetings in times of war. These days it is owned by two art and wine lovers who fell in love with the history and surrounding beauty.
Activities
There is a 50m infinity pool, wine spa, gym, tennis courts, riding. Wine and cheese tastings are also available at extra cost.
Accommodation
The seven bedrooms (including two separate villas) have all been uniquely styled and designed with an array of collected art pieces and artefacts from all over the world.
Our comments
A wonderful place to get away from it all.