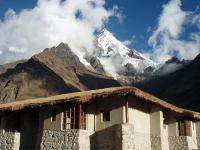 Wayra Lodge (MLP - Salkantay)
Location
Wayraccmachay (The Inca Trails, Peru)
Description
In a windswept valley at 3,900m below Humantay mountain, this lodge has a small hot tub in an inner courtyard. There is also a bar and dining room. From here the trail leads downhill, in the knowledge that the highest pass is behind you!
Activities
There is a glacier lake a steep climb away, although you are unlikely to have time (or energy!).
Accommodation
6 comfortable bedrooms, with private bathrooms and gas heating.
Our comments
Part of the lodge to lodge Salkantay trek, operated by Mountain Lodges of Peru. This is a rather magical and remote spot, run by a charming local family. It is hard to think of anywhere else, at least in Peru, where the sheer effort of bringing in the materials necessary for its construction was greater, but a visit it is certainly worthwhile.
Client comments and reviews
All the lodges on the trek were beautifully built and situated and manned by local people who supplied the food from their farms. The attention we were afforded was excellent everywhere and we will always be grateful for having our walking boots cleaned every night! - TC (June 2009)