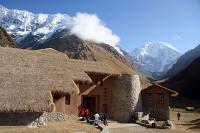 Soray Lodge (MLP - Salkantay)
Location
Soraypampa (The Inca Trails, Peru)
Description
Also known as the Salkantay Lodge & Adventure Resort, a comfortable lodge at at 3800m with stunning views to Salkantay (6300m - 'the one who cannot be tamed') and Humantay (5900m). Outside Jacuzzi, restaurant, bar.
Activities
A free day here allows one to take a practice hike to a glacier lake below Humantay or ride in the surrounding countryside.
Accommodation
12 rooms, all with views, private bathrooms, and gas heaters.
Our comments
Part of the lodge to lodge Salkantay trek, operated by Mountain Lodges of Peru. Very friendly staff.
Client comments and reviews
The MLP trek really surpassed my expectations - it is a great concept and the involvement of the local people does make it special - the fact that they are trained properly to a very high level to work in the lodges is so sensible and does give them a chance to improve their lives, and that of their families in the future. Our guide - Miguel Alata, was also instrumental in making the trek go so well - he got the pace just right and his enthusiasm for his country, the wildlife and the people shone through - do please pass this on to MLP - brilliant. I think we were really lucky with the weather and we saw so much, particularly in the cloud forest. After all this we still had Machu Picchu to come! I think the whole party was moved by the magical moment as MP appeared out of the cloud - truly one of the most fantastic sights we will ever witness! - JJ (May 2011)
The trail was wonderful and the guides from the Mountain Lodges of Peru were superb. The lodges were all comfortable and the staff so friendly and helpful. - SN (April 2011)
The lodges were beautiful and exceptionally friendly. And we were amazed at the excellent quality of the food. It was great to be eating fresh, local and expertly prepared dishes in such spectacular settings. We were particularly touched by the romantic meal for two overlooking Salkantay which was organized by the staff at Soray Lodge. What a wonderful setting. And to top it off, when we returned to our room, there were roses, chocolate dipped strawberries and champagne awaiting us. A really special night. - AT (August 2008)