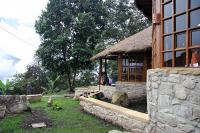 Lucma Lodge (MLP - Salkantay)
Location
Lucmabamba (The Inca Trails, Peru)
Description
On the edge of the Llactapata Inca trail (2,100m) and near coffee plantations. There is a spacious sitting area and dining room.
Activities
The final lodge on Mountain Lodges of Peru's trail to Machu Picchu.
Accommodation
6 comfortable rooms with private bathrooms (none have views).
Our comments
Part of the lodge to lodge Salkantay trek, operated by Mountain Lodges of Peru. The local coffee is excellent!
Client comments and reviews
Mountain Lodges of Peru can't be beaten - fantastic accommodation, food and staff... not to mention our wonderful guide, who was enthusiastic, knowledgeable and charming. - CM (June 2008)