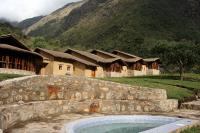 Colpa Lodge (MLP - Salkantay)
Location
Collpapampa (The Inca Trails, Peru)
Description
At 2,800m with views over the convergence of three rivers. Hot springs are being developed just near the lodge, and a traditional pachamanca (hot stones) is usually prepared. Outdoors Jacuzzi.
Activities
A local school, supported by Mountain Lodges of Peru, can be visited if you are willing to make a very early start.
Accommodation
Half of the 6 rooms have views, all have heating and private bathrooms.
Our comments
Part of the lodge to lodge Salkantay trek, operated by Mountain Lodges of Peru.