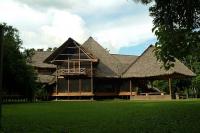 Reserva Amazonica
Location
Tambopata (Tambopata and Manu, Peru)
Description
45 minutes by motorboat from Puerto Maldonado on the banks of the wide Madre de Dios River. This is one of the most comfortable lodges in the area, with rooms in a series of individual bungalows set in a forest clearing.
Activities
Excursions into the surrounding forest. The lodge also has its own canopy walkway which gives a different perspective of the forest. There are also tours to Rolin Island (a place for monkeys that were previously kept as pets), Sandoval Lake (great for birdwatching and hopefully to see the Giant River Otters), a native farm and village and also boat trips and nature trails around the lodge.
Accommodation
Reserva has 35 spacious cabañas furnished with real attention to detail. There are 4 suites, 2 with outdoor sitting area and plunge pool. All have solar heated water and a netted verandah area with hammocks.

There is a massage room overlooking the Madre de Dios River and a large main building which houses the restaurant and bar, and also a mezzanine level for relaxing.
Our comments
Excellent service and the bungalows are extremely comfortable and beautifully done. However as the bungalows are in a clearing and right next to the river it does not feel as remote as some of the other lodges, where you are more open to the sights and sounds of the forest (for some a good thing!). The lodge is also relatively close to Puerto Maldonado so there is significant river traffic.
Client comments and reviews
The staff were really friendly and the food in the restaurant was far better than we expected in the jungle! The walks from the lodge were really interesting and we were able to see quite a bit of wildlife, even though we were in a larger group (10). - JM (November 2014)
Reserva Amazonica - what an experience! The children loved it. I must say they have the most fabulous staff. We were assigned a guide called Ghlem who was brilliant with the children, and was the best guide we had all holiday. We did the canopy walk (not so keen myself as it swung around so much, but the children had great fun), a boat trip at night to look for caimans, and a jungle walk and canoe trip to the Sandoval Lake. Great restaurant too. - SI (August 2011)
Reserva Amazonica was gorgeous! Not a bug in sight in our bungalow! It was lovely and relaxing, and the excursions were great - we had a really nice guide as well who was very enthusiastic and obviously loved his job. Very observant for wildlife too! - KA (September 2008)