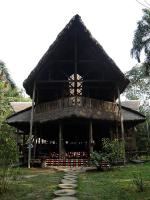 Refugio Amazonas
Location
Tambopata (Tambopata and Manu, Peru)
Description
A simple but comfortable lodge built using traditional materials on the banks of the Tambopata river, about 3 hours from Puerto Maldonado and accessed by a combination of road and motorised canoe. It is situated in a 200-hectare private rainforest reserve, within the buffer zone of the Tambopata National Reserve, and surrounded by a Brazil nut forest managed by a local concessionaire. There is an open sided dining area, a bar, communal seating areas, a small shop and massage room.
Activities
An extensive number of bird species and a range of mammals can hope to be seen here, including macaws, hoatzin, giant river otters, peccaries, monkeys, caiman, capybara and, if you are lucky, the elusive jaguar.

Activities are discussed by the guides on arrival and the schedule will depend on the number of nights spent at the lodge. A highlight for many is the 25 metre scaffolding canopy tower where a staircase provides access to platforms above, with great views of continuous primary forest extending out towards the Tambopata National Reserve.

Other attractions include a visit to the nearby oxbow lake, where you can paddle around the lake by canoe looking for wildlife; a local smallholding visit, where the owner from the local indigenous community of Condenado grows a variety of typical Amazon crops (many which are served in the food at the lodge); an early morning excursion to a small parakeet clay lick; a range of rainforest walks, including a walk to a mammal lick, the Brazil nut trail or a night hike. Each evening, before supper, a lecture is given by the staff and will cover topics such as conservation threats and projects in the Tambopata National Reserve.
Accommodation
There are 32 rooms open to the forest and decorated with bas-relief wood carvings representing stories and characters from Ese-eja traditions. All rooms have private bathrooms, hot water, mosquito nets and electricity during certain hours. The 4 large suites have 2 king size beds, there are 23 comfort rooms with 2 double beds and 5 superior rooms with 2 or 3 single beds.
Our comments
A good base for a jungle experience of 3 nights, or for combining with the Tambopata Reserach Centre, a further 3 hours upstream for a more in-depth Amazon experience.
When to go
Wet season is from November to April, but rain is normally restricted to half days.
Client comments and reviews
We loved the rain forest and the lodge, but you have to know what you're getting into. I think we were very lucky because it was dry and reasonably cool while we were there, very few insects and easy to get around – it is probably harder when the weather is hot and humid or rainy. We were also happy with the activities, especially the Oxbow lake hike and the macaw clay lick trip. We saw enough animals to keep us happy even if this is not the densest part of the rain forest in Latin America for fauna (something people need to realise up front). Refugio is a family-oriented/ group environment and many of the activities are geared toward kids. We also met other travelling couples and that was a nice part of the experience. - HD (August 2019)
Refugio Amazonas was great, interesting and comfortable. - AB (October 2016)
The jungle trip was interesting, although we did find the single bamboo walls between bedrooms and bathrooms a little disconcerting – rather like being in a bunk room and so not to everyone's taste – although most people tend to be considerate. - JC (May 2012)
What a day for wildlife! When we arrived at Refugio Amazonas, we saw and photographed a harpy eagle, which is another mythic animal for me. And then in the evening we saw smooth-fronted caiman and white caiman. - PM (August 2011)