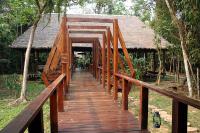 Posada Amazonas
Location
Tambopata (Tambopata and Manu, Peru)
Description
A simple but comfortable lodge on the banks of the Tambopata river, 1 hour upstream from the port of Infierno. It is situated within a 200 acre uninhabited private community reserve adjacent to the Tambopata National Reserve and owned by the Native Ese eja Community of Infierno, which works and profits from the lodge.
Activities
Jungle walks, boat trips and birdwatching. 36m canopy tower (steps lead to the top).
Accommodation
The lodge has 30 rooms with mosquito nets over the beds and each with its own private bathroom. Of these there are 18 classic rooms (with no electricity, lamps and candles provide the lighting) and 12 (larger) superior rooms with electric lighting available in the evenings.
Our comments
A good base for a shorter jungle experience of 2 or 3 nights.
When to go
Wet season is from November to April, but rain is normally restricted to half days.
Client comments and reviews
The lodge in the Amazon was wonderful - the guide Luis M was also wonderful! Another guide who kept you engaged with the knowledge he had about the area and the wildlife, and who was always smiling even at 4am! We would recommend the lodge to anyone who was going to the area, as we had a wonderful stay there - even when sharing our shower with a large frog!! - NB (July 2010)
Lovely, fascinating, did exactly what it promised, good food and staff; adequate facilities for the location. - HH (February 2008)