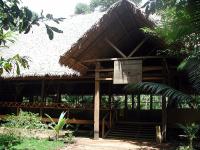 Heath River Wildlife Centre
Location
Tambopata (Tambopata and Manu, Peru)
Description
On the Peru/Bolivia border (and strictly in Bolivia) 3 hours upstream from Puerto Maldonado, this unique lodge is run and managed by the local Ese'eja indigenous people whose nearby community is called Sonene.
Activities
10 minutes by boat from the lodge is a floating hide just 30 metres from a large macaw and parrot clay lick. Jungle treks, canoeing and bird watching are all on offer, including walks into the Pampas del Heath savanna. There is a tree platform for lovely views across the forest canopy.
Accommodation
Ten comfortable cabins, each with an ensuite bathroom with a hot shower.
Our comments
All macaw and parrot licks in southern Peru are less active in May to early July than they are the rest of the year. The two distinct ecosystems are a distinct advantage over other lodges in the area.