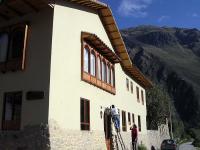 Hostal El Sauce
Location
Ollantaytambo (Sacred Valley, Peru)
Description
A small family run hotel with six rooms in the centre of Ollantaytambo, the only living town in the world with the original Inca layout. There is a restaurant and a small outside seating area.
Accommodation
Simple but comfortable rooms, some of which have views of the ruins.
Our comments
A good budget option and great if you want to see more of the town once the crowds leave.