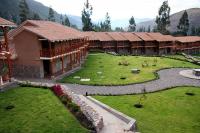 Casa Andina Premium Sacred Valley
Location
Near Urubamba (Sacred Valley, Peru)
Description
In the heart of the Sacred Valley of the Incas, just 10 kilometres from Ollantaytambo and its train station, this large hotel is also close to the Sacred Valley's most important archaeological sites. It has lovely grounds with a very high-ceilinged lobby and restaurant area. There is also a small bar and spa.
Accommodation
85 guest rooms including split-level suites.
Our comments
A large hotel in a good location for visiting the Sacred Valley and ideal for groups.