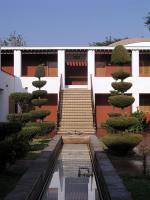 Hotel Las Dunas
Location
Ica (Paracas, Nasca and Ica, Peru)
Description
The hotel is set in large grounds with lovely gardens, a pool and open air restaurant. There is a small shop and business centre too.
Activities
Used as a base for the overflight of the Nasca Lines. Basketball, pitch and putt golf, tennis, riding and cycling. You can also arrange to for an exhilarating ride on the sand dunes in a buggy.
Accommodation
Rooms are clean, cool and large, with a TV, mini bar and safe. The bathrooms are en-suite and have a small bath with shower.