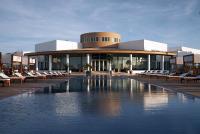 Hotel Paracas
Location
Paracas (Paracas, Nasca and Ica, Peru)
Description
A Starwood Luxury Collection/Libertador hotel with 120 rooms and good facilities including 2 swimming pools and a spa. It is set in lovely grounds with views over the bay.
Activities
A perfect base from which to visit the nearby Ballestas islands or the Paracas National Reserve.
Accommodation
Rooms overlook the ocean or gardens and most have a balcony or terrace.
Client comments and reviews
We stayed for a couple of nights in an ocean view room which allowed us to do a flight over the Nasca lines, have a boat ride around the Ballestas Islands, visit the Potón pisco distillery and do some sand dune buggying, all of which were very worthwhile. I had an image of looking right out over the ocean but in fact there is a wide strip of garden between the rooms and the water. However, the room was very spacious, clean and comfortable, and there was an English language news sheet delivered each morning, which was a nice touch. The reception staff were all excellent and extremely helpful. The spa area was great, with a nice indoor pool. The outside areas were kept very clean (which must be quite a task with all the birds!) and the service was pretty efficient in the bar areas and around the pools (of which there are two good-sized, outdoor ones). Dinner in the hotel restaurant was fine dining in style and the food was competent without being that memorable. The buffet breakfast was good, but it started too late. - ML (September 2015)