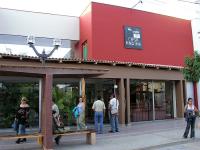 Casa Andina Nasca
Location
Nasca (Paracas, Nasca and Ica, Peru)
Description
Within walking distance of the main square. The hotel offers a good breakfast, has a small shop, small swimming pool and internet access. No bar.
Activities
Visit the Nasca lines.
Accommodation
Rooms are clean and simple with a TV and safe. All bathrooms have a bath and shower, and hairdryers are available at reception.