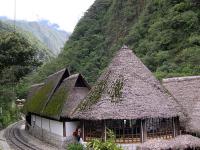 Inkaterra Machu Picchu
Location
Aguas Calientes (Machu Picchu, Peru)
Description
A lovely authentic hotel, set in 5 hectares of beautiful grounds, by the train station in Aguas Calientes. There are 2 restaurants, a small outdoor pool, spa and Andean sauna.
Activities
The gardens are an excellent place for birdwatching and there is also a fantastic orchid trail, a spectacled bear project and a tea house.
Accommodation
All the casitas are individually decorated with Andean textiles and colonial style furniture, set around the beautiful gardens. Superior casitas are spacious enough but Superior Deluxe casitas have the benefit of a working fireplace and Junior Suites have a sitting area and outside terrace or balcony too. There are also a number of Suites and 2 spacious villas which are perfect for families.
Our comments
A very special and unique place to stay. It is worth spending at least half a day just to explore the property and its gardens.
Client comments and reviews
Inkaterra hotel is unique and situated adjacent to the railway track. The rooms are very comfortable but because it is set deep in a valley are necessarily a little dark with no view. That said probably the best hotel in the town. - RP (October 2019)
Inkaterra Lodge is a beautiful hotel in lovely grounds, but with only one night we had no time to fully enjoy the facilities. - AB (October 2016)
The Inkaterra Hotel was excellent. Our trips to Machu Picchu were amazing. I have to say I particularly enjoyed Huayna Picchu!! The second day we went out to the Inca bridge and up to the Sun gate. I wouldn't have missed Machu Picchu for anything. - SH (June 2013)
We loved it and wished we could have stayed longer! The hot pool was wonderful after walking round Machu Picchu! I wanted to see the orchid garden but sadly we ran out of time. - SI (August 2011)
Without a doubt the best hotel and setting was the Inkaterra in Aguas Calientes, which we very much enjoyed after our visit to Macchu Picchu. - PW (May 2009)
We loved the Inkaterra at Aguas Calientes. It was a lovely hotel and we went on the bird walk and then had our own private walk through the orchids. Neither of us knew anything about them so that was a true eye opener. - AM (May 2009)
The hotels you selected for us were great, especially Inkaterra! - JW (October 2008)
I think we perhaps would have preferred 2 nights at the Inkaterra Hotel. It's a fantasic hotel with lots to see and do, plus there would be time to climb Huayna Picchu. It was just a shame to have such a short time there. - VI (September 2008)
We liked the hotel a lot and it is the one place I would have really liked another day - just to explore the grounds and do some birdwatching. We arrived after dark after hiking the 1 day Inca Trail and left in the dark the following morning, to get to see the sunrise. However, we did ask to have a walk in the orchid garden before we caught the train back to Cusco. - MW (October 2007)
Really nice eco-lodge, had a lovely room right by the river. Staff wonderful and excellent dinner. - RH (January 2007)