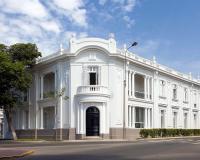 Hotel B
Location
Barranco (Lima, Peru)
Description
A charming boutique hotel in the heart of the bohemian neighbourhood of Barranco. Originally a mansion house, this historic building has been beautifully restored and furnished. There is a restaurant specialising in Peruvian food, a library and beautiful roof top terrace.
Activities
The hotel is linked to the Lucia de la Puente gallery, which allows private viewings for guests.
Accommodation
The 17 rooms are very comfortable, spacious and traditionally furnished. 10 have been restored maintaining many original features of the mansion house, and 7 are in an annexe building.
Our comments
The hotel is wonderfully positioned to explore Barranco's famous bars and restaurants.
Client comments and reviews
Hotel B was excellent and although we did not dine there we had two excellent breakfasts in a small but classy area. The hotel oozes art and our rooms were quite outstanding. They were large, comfortable well appointed with bath and shower/wet room. A great introduction to our tour and to South America. - RP (October 2019)
This is a terrific hotel. Situated in the former seaside retreat of a Peruvian president, the building retains many of its original 1920s fixtures and fittings and is a real delight in itself. The ?Atelier? rooms are large and extremely well appointed, with all the amenities that you would expect from a 5 star hotel. The welcome was very warm and nothing was too much trouble. The bar was small but well-staffed and they certainly knew how to make cocktails. The breakfast was a good, fresh buffet and other items could be made to order. We had dinner in the hotel on one evening, on a busy Saturday night. There are two dining areas ? a small inside area, which is relaxed and intimate, and an outside candle-lit patio. The menu is an inventive combination of ?tapas? and larger plates, making for an interesting dining experience with lots of sharing - the food was good too. However, the service let things down with the waiting staff being rather over-worked. Whilst the hotel is a fair distance from the historic centre of Lima, I would certainly stay here again and use a guide and driver to visit the sights of the old town. - ML (September 2015)