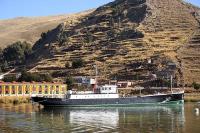 Posada del Inca Puno
Location
Lake shore (Lake Titicaca, Peru)
Description
A comfortable hotel on the shores of the lake, away from the town, with its own pier. It has a bar and large restaurant that opens on to a terrace overlooking the water and the Yavari ship is moored at the end of their pier.
Activities
Boat excursions out onto Lake Titicaca to visit the nearby islands and visits to Sillustani, an Inca Cemetry.
Accommodation
Rooms are comfortable and spacious and most have a lake view.
Our comments
A member of the Posada del Inca chain, popular with groups, in a prime position on the lake shore.
Client comments and reviews
Very good position and view, good room and staff. Very good breakfast and evening meal (well-priced). - HH (March 2008)