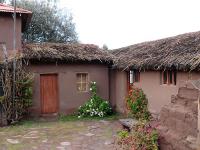 Llachon Lodge
Location
Llachon (Lake Titicaca, Peru)
Description
A family run lodge in Llachon, situated on a peninsula on the western shores of Lake Titicaca and accessible by boat or road. It overlooks a long beach and also offers wonderful views over the lake and nearby islands. Good wholesome local food is served in the dining room and it has a warm friendly atmsophere.
Activities
Kayaking, experiencing and learning about the local culture and participating in local activities.
Accommodation
The simple rooms are set around a couple of small courtyards and are cosy with private facilities and electricity.
Our comments
Valentine and his family are very welcoming and will go out of their way to make you feel at home.