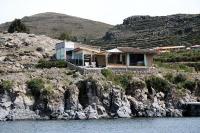 Amantica Lodge
Location
Amantaní Island (Lake Titicaca, Peru)
Description
A 3 hour journey by boat from Puno takes guests to the remote island of Amantaní, where locals speak the native Aymara language and still wear their traditional dress - there is even a small Inca site. Guests have exclusive use of this luxury yet rustic property and all meals are prepared by a private chef.
Activities
Private excursions and activities are included and are tailored to guests interests.
Accommodation
The lodge has two rooms - a family room and a suite whose stone bath has wrap-around views.